With latest technology, our HTDZ digital conference system is managed to integrate discussion, voting, simultaneous interpreting (SI), registering, video tracking and software management together, so it could be installed on varied conference rooms, from the smallest up to the very largest ones.
The conference system is composed by a DCN-6600 unit and two kinds of microphones, including one for representatives and one for chairman. Both these two kinds of microphones have built-in speaker and directional cardioid microphone with light ring, allowing excellent audio sensitivity and wide frequency response. Meanwhile, since the routing for the system is quite easy, a fast and correct installation could be guaranteed.
As many as 64 microphones could be installed on our conference system. The conference system has four independent lines, each of them allowing an installation of 30 microphones.
When installing HT-08EX, 60 microphones could be installed on the system (six network interfaces). And as many as 30 microphones are allowed to be installed on a single interface.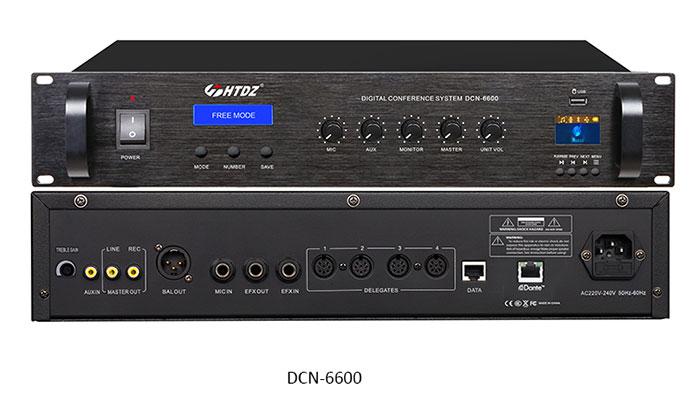 Main Functions:
1. DCN-6600 conference system features an output power of 400w, which allows the connection of 64 microphones. But if installing an extra unit, 250 microphones could be supported. There are four 8P-DIN male connectors are available for connection.
2. The conference system owns a volume processor, which is designed to control the volume of audio messages.
3. System volume could be adjusted independently.
4. AUX (auxiliary port) is installed on the conference system, whose volume could be adjusted.
5. One wired microphone interface is installed, whose volume could be adjusted.
6. A 1W monitor speaker is built inside the system, whose volume is also adjustable.
7. High fidelity and automotive whistle proof function could be realized.
8. Multiple conference modes, like, FREE MODE, LIMIT (1-9), FIFO (1-9), are all supportive with the system.
9. Built-in RJ45 connector is equipped, which allows the connection with central processor for video tracking.
10. Built-in USB is installed on its audio receiver, allowing both the audio recording and playing function. Besides, when used together with a Bluetooth device, the audios inside the device could also be played with our DCN-6600 system.
11. Built-in Dante audio transmission interface is installed.

Microphone data refer to below link:
http://conferencesystemchina.com/1-3-2-conference-microphone-unit.html