Powerful and flexible, the HT-9500M fully digital conference system allows both medium and large-scale meetings to be managed with complete control and reliability. The conference system combines PC control, software package, and digital processing unit in one integrated system, whose central controller is designed digitally. A comprehensive powerful options, like, the management of multi-mode microphone, video tracking, video switching, recording, monitoring and etc. are displayed clearly on the menu, so operator could find the required function promptly and correctly. Besides, the conference controlling is done by a management software, which could work well on independent windows PC when Ethernet cables are adopted.
Fully Digital Conference System - Main Unit HT-9500M

Features
1. Cat 6A shielded cables are introduced for data transmission and power supply, supporting message transmission with a fast internet service - 100M. Thus, audio message and signals could be delivered perfectly in a long distance.
2. 80 pieces of microphones could be applied simultaneously on single conference system, but when coupled with HT-9500E system, 400 microphones are also allowable. Our digital conference system has four network interfaces (RJ45), and each of them allows the connection of twenty microphones. Four microphones are allowed to be activated at the same time.
3. A sampling frequency of 48kHZ is supported by the system.
4. In order to ensure a clear, highly sensitive, and perfect sound quality, high-performance dual-core CPU, 32 bit high-speed digital signal processing, audio feedback inhibition, acoustic echo cancelling, noise reduction and digital equalization are all available.
5. TCP (transmission control protocol) and IP (internet protocol) are all available, enabling a reliable and safe management.
6. When coupled with phone coupler, teleconference could be realized.
7. Built-in video tracking control unit and high-definition switching matrix are available for auto video tracking with high definition.
8. The digital conference system owns a built-in USB, allowing the realizing of recording and monitoring.
9. Audio could be outputted in balanced or unbalanced way.
10. Different kinds of interfaces, like, Ethernet, RS422 and RS232, could meet requirements towards different devices.
11. Three modes are available, including REQUEST(1-4), LIMIT (1-4), and FIFO (1-4). They all support speech timing function.
12. Multiple conference functions could be realized when digital conference system is connected to computers with cables.

---
Fully Digital Conference Microphone Unit - HT-9200c/d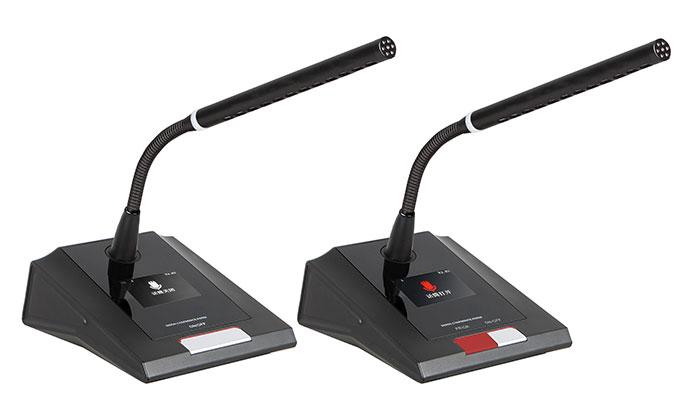 Features
1. Unique audio processing and transmission technique, as well as built-in high-performance dual-core CPU, is equipped in the fully digital conference microphone unit, allowing fast processing speed and excellent sound quality.
2. Microphone unit is portable and its flexible hose (optional for long hose and short hose) could be detached.
3. A sampling frequency of 48kHZ is supported by the unit, and a frequency between 20HZ to 20000 hz could be responded.
4. ID number, status and other related messages could be displayed on our LED screen.
5. Built-in network interface (RJ45) could be used to connect with systems.
6. The microphone unit has a good resistance to cellphone and electromagnetic interference.
7. Sensitivity: -44dB±2dB